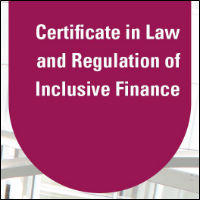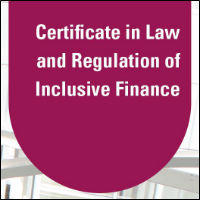 The EIB Institute partnered with the University of Luxembourg's Faculty of Law, Economics and Finance and ADA in hosting the first cohort of a new lifelong learning programme, the Certificate in Law and Regulation of Inclusive Finance, aimed at furthering expertise and exchange in this emerging field of financial law.
The first cohort of 22 students, from 14 countries, successfully completed the programme on Thursday, 26 January, after attending two weeks of courses on regulatory supervision, law and ethics, investment vehicles and banking law, taught by professors from the University of Luxembourg, invited lecturers from ADA and from the EIB, and other microfinance specialists. They were awarded their certificates at a closing ceremony at the EIB.
Participants included professionals working in the field of finance, for regulatory bodies and microfinance institutions as well as in academia. In addition to students living in Luxembourg and Belgium, participants travelled from Cameroon, Ghana, India, Indonesia, Kenya, Mongolia, Morocco, Nigeria, Pakistan, Palestine, Tanzania and Tunisia to join the programme.
The programme was organised in the framework of the ADA Chair in Financial Law (Inclusive Finance), in cooperation with Appui au Développment Autonome (ADA) and the European Investment Bank (EIB), with additional support by the CSSF and Arendt & Medernach.
Francisco de Paula Coelho, Dean of the EIB Institute, said: "Access to finance empowers small businesses and changes lives. We are proud to partner with the University of Luxembourg and ADA to advance expertise among professionals from around the world and develop inclusive finance further for those in need."
Following the successful completion of the first edition, the Certificate in Law and Regulation of Inclusive Finance is expected to continue as an annual two-week lifelong learning programme.
Click here for press release.