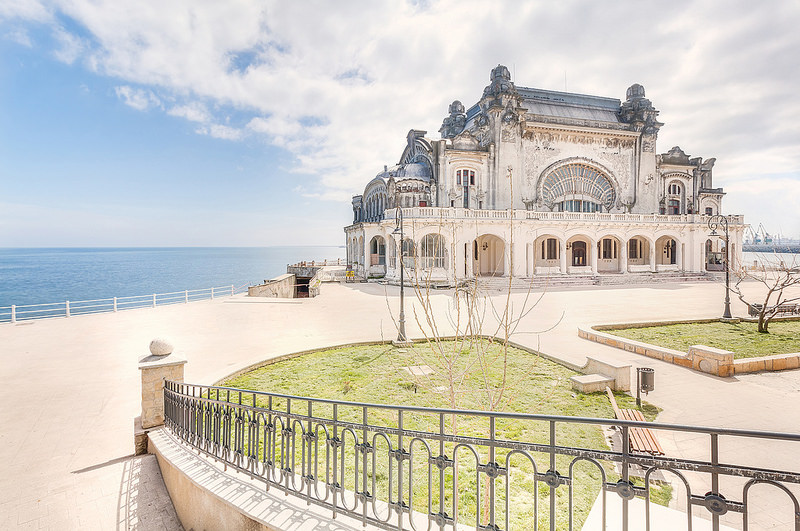 The European Investment Bank Institute and Europa Nostra, the leading heritage organisation in Europe, have published a technical and financial report on the rehabilitation of the Constanța Casino in Romania, listed among The 7 Most Endangered heritage sites in Europe in 2018. The European experts recommended to update the feasibility study before launching the construction tender to rehabilitate the Casino.
Built in 1910, the Constanța Casino has become a landmark of the Black Sea shore. Daniel Renard, the Swiss Romanian architect who designed the building, opted for a lavish expression of Art Nouveau to reflect Romania's modernisation during the reign of Carol I. Following many years of alternating commercial and state held responsibility for the building's care, the Casino has been abandoned since the 2000s.
The Government has allocated substantial funds for the rehabilitation of the building but the existing state of the building is not well known in detail and the proposed usage of the Casino seems not to have been studied sufficiently says the report which proposes to update the feasibility study before launching the construction tender.  It also "strongly recommends" that the owner and operator of the Casino, the Constanța City Hall (CCH),  and the construction company, the National Investment Company (NIC), review their overall arrangements for the project preparation and contract strategy and make fundamental changes summarised in the report.
The missions to the six other European heritage sites listed in 2018 will be held by the end of 2018 / beginning of 2019. The technical and financial reports will be released a couple of months after the missions.
The EIB Institute facilitates the transfer of know-how and experience between different partners and countries in the heritage conservation field. It cooperates with Europa Nostra to identify those under acute danger of neglect or destruction. This innovative cooperation mixes the cultural expertise and lobbying work of Europa Nostra with the technical appraisal and rescue planning skills of the EIB. The EIB experts carry out on-site missions and produce technical reports on the viability and phasing of the project recuperation as well as on the funding options.