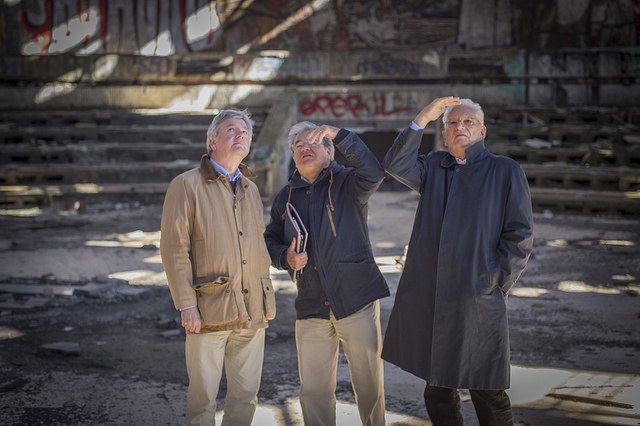 The European Investment Bank Institute and Europa Nostra, the leading heritage organisation in Europe, have published a technical and financial report on the rehabilitation of the Buzludzha Monument in Bulgaria, listed among The 7 Most Endangered heritage sites in Europe in 2018. The European experts recommended an "emergency action plan to keep the monument out of future political controversies" before "adapting it to new attractive uses".
The report states that the Monument has to "return to a safe and usable condition" and then be brought "into a new life, offering the possibility of organising cultural/touristic visits and many other types of events (e.g. seminars, concerts, exhibitions). The basic intention is not to restore it completely back to its original status but to adapt it to new attractive uses". But "a crucial target of this action plan is to keep the Monument out of future political controversies" by "transferring the ownership of the Monument to the public administration, including the responsibility of implementing the project and managing it in the future", the report continues. "Private ownership or concession is highly not recommendable as it would result in no direct control over the future use and content of the Monument. Nevertheless, private management of the Monument during the operational phase is to be considered".
Built in 1981 the Buzludzha Monument is a masterpiece of architecture, engineering and art, built as the House-Monument of the Bulgarian Communist Party and used for just eight years until the end of the Communist regime in Bulgaria in 1989. Abandoned and victim to thefts, vandalism and severe weather conditions, the building still attracts attention thanks to its gravity-defying architecture and its colourful mosaics, which cover 1,000m² of the building's interior.
The EIB Institute facilitates the transfer of know-how and experience between different partners and countries in the heritage conservation field. It cooperates with Europa Nostra to identify those under acute danger of neglect or destruction. This innovative cooperation mixes the cultural expertise and lobbying work of Europa Nostra with the technical appraisal and rescue planning skills of the EIB. The EIB experts carry out on-site missions and produce technical reports on the viability and phasing of the project recuperation as well as on the funding options.
The missions to the other European heritage sites listed in 2018 will be held by the end of 2018 / beginning of 2019. The technical and financial reports will be released a couple of months after the missions.