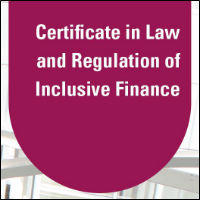 The EIB Institute is partnering with the University of Luxembourg's Faculty of Law, Economics and Finance and ADA for the third edition of the Certificate in Law and Regulation of Inclusive Finance from 14 to 24 January.
The programme enables an exchange between scholars, regulators and financial intermediaries, facilitating academic and non-academic cooperation.
As for the previous edition, EIB staff will teach courses (sustainable finance, microfinance at the EIB, European microfinance, social enterprises) and the EIB will host the certificate award ceremony.
This year's course will bring together 21 students from 13 countries working for central banks, regulators, government or for microfinance institutions in their home countries.
During their stay in Luxembourg, they will attend courses on regulatory supervision, law and ethics, investment vehicles and banking law.