Olivier de Guerre
President of the Jury
Olivier co-founded GT Finance/Cristal Finance in 1987 before joining Credit Suisse Asset Management in 1998 as a Managing Director. In 2003 he founded PhiTrust in order to support families and foundations in the implementation of financial, social and philanthropic strategies, believing that investors have responsibility through their financial and social investments. He has long-standing experience in asset management at the level of families/foundations or institutions, in particular through assisting them with their investment strategies. Olivier is a Board member of Finansol, EVPA and the Philippson Foundation. He is also the Chairman of PhiTrust Active Investors and PhiTrust Impact Investors.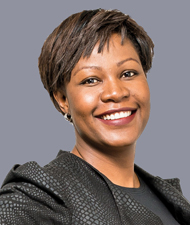 Justina Alders-Sheya
Justina is a Fund Manager within the Financial Inclusion fund management team at
Triodos Investment Management
(a globally recognised leader in impact investing, making money work for positive change). In that role, she manages Triodos Microfinance Fund, Triodos Fair Share Fund and SFRE Fund. Justina has over 18 years of experience in the financial services sector, focusing on investment management, impact investing and financial inclusion. Before joining Triodos IM, she held several positions at EY and at ING Group. Justina is a certified charted accountant, holds a postgraduate degree in accounting from the Vrije Universiteit van Amsterdam, a Master's degree in financial economics from the University of London and a bachelor's degree in commerce from the University of Namibia.
[…]
Pieter Oostlander
Pieter Oostlander's professional background is in accountancy and finance. He held various top-level finance functions in several international companies. In 2004, he switched to the social investment and venture philanthropy sector, driven by the aspiration to make societal impact a significant part of his professional life. He became director of the
Noaber foundation
and co-built the foundations of
Shaerpa
, a consulting and fund management agency. As a founder of Shaerpa and fund manager of SI
2
Fund, Pieter Oostlander is continuously working on what he himself calls "the marriage between the business approach and charitable goals". He was a member of the Board of Directors of
EVPA
for ten years, three of which as chairman. Pieter is also on the Board of Directors of
Social Value International
, an international network that promotes the use of a systematic approach to social value accounting.
Robbie Semple
Robbie runs the Scale Programme at
Social Entrepreneurs Ireland
, helping some of the country's highest potential social enterprises to grow. He is a member of the board of
On Purpose
, a social enterprise focused on leadership development for the new economy, working across the UK, France and Germany. Robbie is the founder of
Worthwhile
, an award-winning social enterprise that helps more young people begin careers in social impact. He has worked with several social impact organisations in the UK, including Nesta, the Bromley by Bow Centre and Student Hubs.
Martina von Richter
Martina is the Impact Director for
Social Innovation Fund Ireland
with a distinct track record of driving change and innovations at a strategic level. She has a strong ambition to strive for overall  system change for economies, society and the environment through innovation to obtain the Sustainable Development Goals 2030. Martina has worked at the heart of European social ventures in previous years at Phitrust Partenaires (Paris) and has up started 3 social enterprises herself. Her comprehensive personal experience as well as her strong entrepreneurial mindset makes her within the finance community a highly regarded expert and advocate of impact investments.
Hans Wahl
Hans joined the 
INSEAD Social Entrepreneurship Initiative
 in 2007. He has a background as a human rights activist, educator, and trainer based in Paris, with more than 30 years of experience in economic and political development. He recently designed and led a programme of training and capacity building for paralegals working in post-conflict settings in Africa and established UNESCO's Poverty and Human Rights Programme that brought the agency's multi-disciplinary resources to bear on the task of poverty eradication. He previously directed an international penal and criminal justice reform training programme for Penal Reform International and held senior staff positions at Amnesty International and regional community development organisations.
[…]