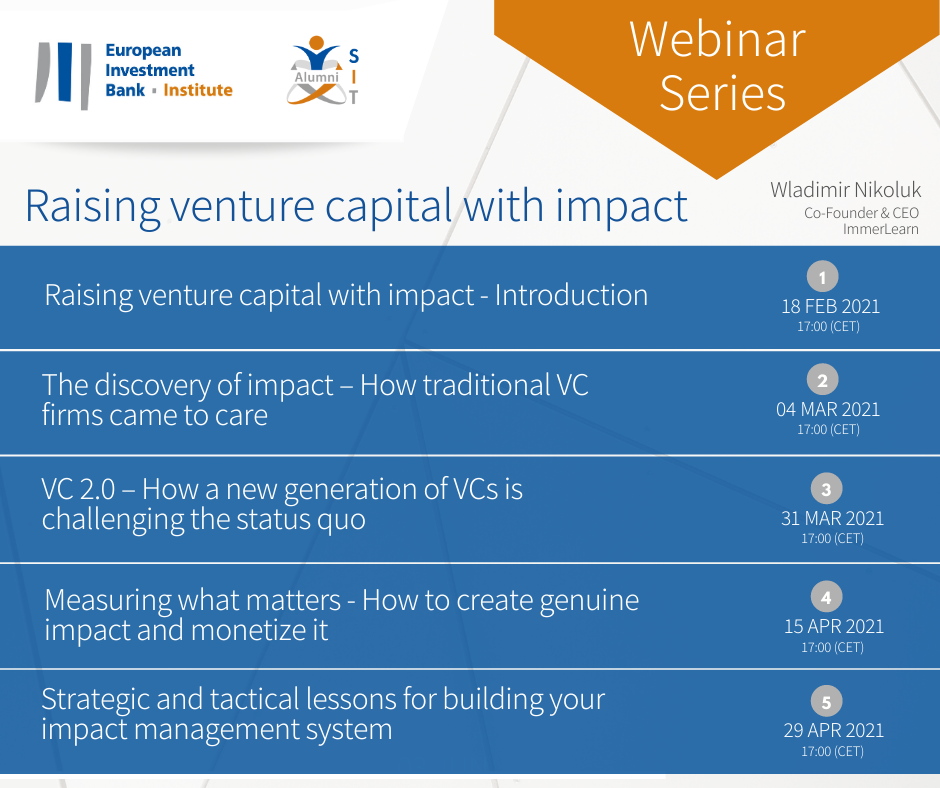 The EIB Institute is hosting a series of five webinars on "Raising venture capital with impact" with Wladimir Nikoluk from ImmerLearn. This series explores how entrepreneurs can successfully use impact measurement to raise funding from existing and emerging venture capital funds.
Recent trends have created an unprecedentedly favourable environment for entrepreneurs working on solutions that are profitable, impactful and scalable. Venture capitalists have taken note that the exacerbating social and environmental challenges will create a huge demand for respective solutions and that some of the world's best talent is stepping forward to build them. Yet, concerns about "impact washing" have also surfaced, increasing demands on entrepreneurs and their funders to measure and manage the impact of their products and services.
The first webinar on "Raising venture capital with impact – an introduction" took place on 18 February and was dedicated to a general introduction to trend and players in the impact venture investing field. A second session, on 4 March, was dedicated to "The discovery of impact – how traditional VC firms came to care: Deep-dive into traditional VC funds that are now building 'impact' verticals".
For more information and to register for the next three session, click on the links below.
Session 3: VC 2.0 – how a new generation of VCs is challenging the status quo (31 March)
Deep-dive into 'pure-impact' VC funds that have emerged in the last couple of years.
Session 4: Measuring what matters – how to create genuine impact and monetise it (15 April)
Deep-dive into impact management standards that have recently emerged, such as the Impact Management Project (IMP), lifecycle analysis (LCA), and the impact multiple of money (IMM).
Session 5: Strategic and tactical lessons for building your impact management system (29 April)
Concluding session that walks entrepreneurs through the practical steps of building their own impact measurement and management systems.