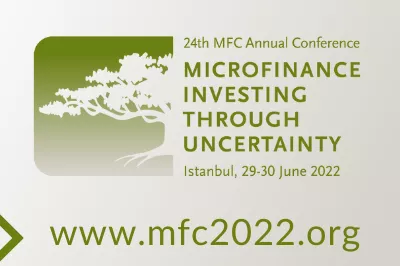 The EIB Institute, together with the EIB and the EIF, invites you to take part in the 24th Microfinance Centre (MFC) Annual Conference — Microfinance investing through uncertainty — which will be held from 29 to 30 June in Istanbul, Turkey.
As we emerge from the pandemic, we are eager to reconnect, discuss our concerns and share new perspectives. In Istanbul you will find out about the changing investment landscape and new investment opportunities; discuss how the sector will respond to the post-pandemic challenges, be they economic, technological, green or regarding the financial inclusion of refugees and migrants; meet new leaders and forge business partnerships.
The MFC conference is a dynamic platform for initiating and forging relationships among participants and their institutions. More than 500 delegates from 40 countries around the world are expected to attend the 2022 conference. Participants include microfinance practitioners, policymakers, experts, investors, IT providers, donors and social finance enthusiasts.
Join the biggest microfinance networking event and register for the 24th MFC Annual Conference.
The Microfinance Centre is a social finance network that promotes fairness, inclusion, equality and responsible service. It unites 113 organisations (including 77 microfinance institutions) across 36 countries in Europe, Central Asia and beyond that together deliver responsible microfinance services to almost 2 million low-income clients.
The EIB Institute complements the activities of the European Investment Bank Group (the EIB and EIF) in the area of microfinance. Since 2015, the EIB Institute has sponsored the European Microfinance Network Annual Conference, the Microfinance Centre Annual Conference and the European Microfinance Day.