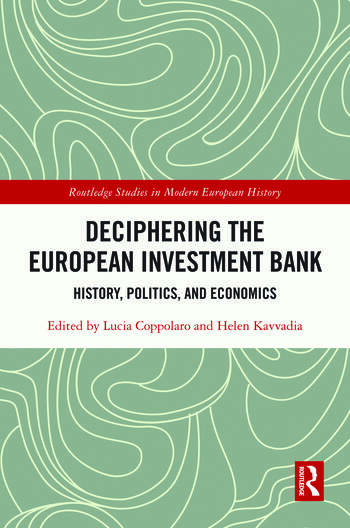 "Deciphering the European Investment Bank: History, Politics and Economics", edited by Lucia Coppolaro and Helen Kavvadia, the first academic book about the EIB, the largest lender and borrower among International Financial Institutions, is being published by Routledge.
This edited volume contains a selection of 14 research papers presented at the first academic conference on the EIB entitled "analysing the European Investment Bank: interdisciplinary approaches to understanding the past, present and future of the world's biggest lender",  held at the University of Luxembourg on 10-11 July 2019.
Since its establishment in 1958, the EIB has developed without becoming front-page news and has remained highly invisible. By putting together 14 chapters that analyze topical and meaningful moments and aspects of the bank, this edited book offers a comprehensive analysis of its origins and its evolution in terms of its mandate, governance, structures, policy activity, and performance.
Written by by 19 prominent scholars from various disciplines, the chapters weave together history, economics, law, and political science to provide a multidisciplinary examination and capture the complexity of the EIB. The book is a timely initiative for understanding the EIB, whose role has been ever increasing for contributing to the recent global economic challenges, including the economic and financial crisis, climate change, and COVID-19 pandemic.