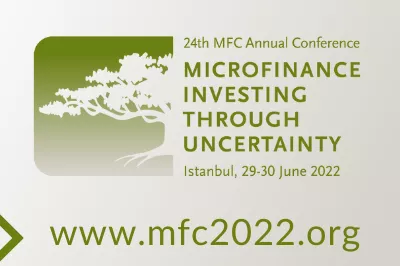 How can the microfinance sector respond to the triple challenge of the war in Ukraine, the still ongoing pandemic and the need to fight climate change? This is the question participants tried to answer during the 24th Microfinance Centre (MFC) Annual Conference held from 29 to 30 June in Istanbul, Turkey and supported by the EIB Institute, together with the EIB and the EIF. The MFC conference is a dynamic platform for initiating and forging relationships among participants and their institutions.
More than 400 delegates from 40 countries around the world – microfinance practitioners, policymakers, experts, investors, IT providers, donors and social finance enthusiasts- discussed the responses be they economic, technological, green or regarding the financial inclusion of refugees and migrants.
In her keynote speech, Shiva Dustdar, the new EIB Institute director urged participants to be bold and innovative. "Always expect the unexpected and be prepared to react swiftly and accordingly" she said.
The Microfinance Centre is a social finance network that promotes fairness, inclusion, equality and responsible service. It unites 113 organisations (including 77 microfinance institutions) across 36 countries in Europe, Central Asia and beyond that together deliver responsible microfinance services to almost 2 million low-income clients.
The EIB Institute complements the activities of the European Investment Bank Group (the EIB and EIF) in the area of microfinance. Since 2015, the EIB Institute has sponsored the European Microfinance Network Annual Conference, the Microfinance Centre Annual Conference and the European Microfinance Day.