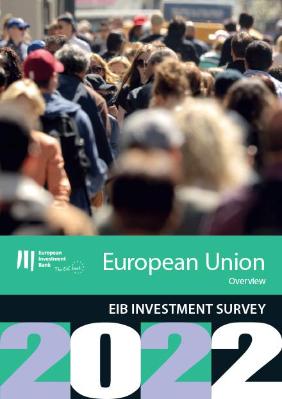 EU firms continue to lead the fight against climate change compared to the United States with 88% of firms having taken action to address greenhouse gas emissions and more than half of EU firms having already invested in climate action, according to the recently published 2022 EIB Investment survey (EIBIS).
EU firms also navigated the pandemic better than expected but massive new shocks due to the consequences of the war in Ukraine are testing their resilience. During the pandemic, businesses in the European Union engaged in transformation and now use advanced digital technologies to the same extent as companies in the United States..
The energy crisis, inflation and monetary tightening pose downside risks for corporate investment. EU firms see the availability of external finance as getting worse in the short-term, even more so than at the height of the pandemic.
Outstanding structural transformation needs to remain significant, while the persistent nature of the energy shock adds to the challenge. The response to the energy shock should set the basis for a more efficient and reliable EU energy market and divert finance towards green innovation.
However, the European Union is falling behind the United States in innovation. Survey data shows 19% fewer firms in the European Union reporting investment in innovation. A third (34%) of EU firms developed or introduced new products, processes or services as part of their investment activities, similar to the share reported in EIBIS 2021 (36%). EU innovation levels were highest among firms in Finland (52%), followed by those in Ireland and Denmark (50% in both countries). Innovation levels were lowest in Slovakia and Spain (14% and 21%, respectively).
This is the seventh edition of the EIBIS. It provides unique firm-level information collected from April to July 2022. It looks at investment decisions and investment finance across the EU and the USA, covering investment activities in climate action and digitalisation, and investigating the impact of the war in Ukraine and COVID-19. The EIB Group, EU institutions and EU Member States use the survey as a tool to identify needs and understand constraints holding investment back.