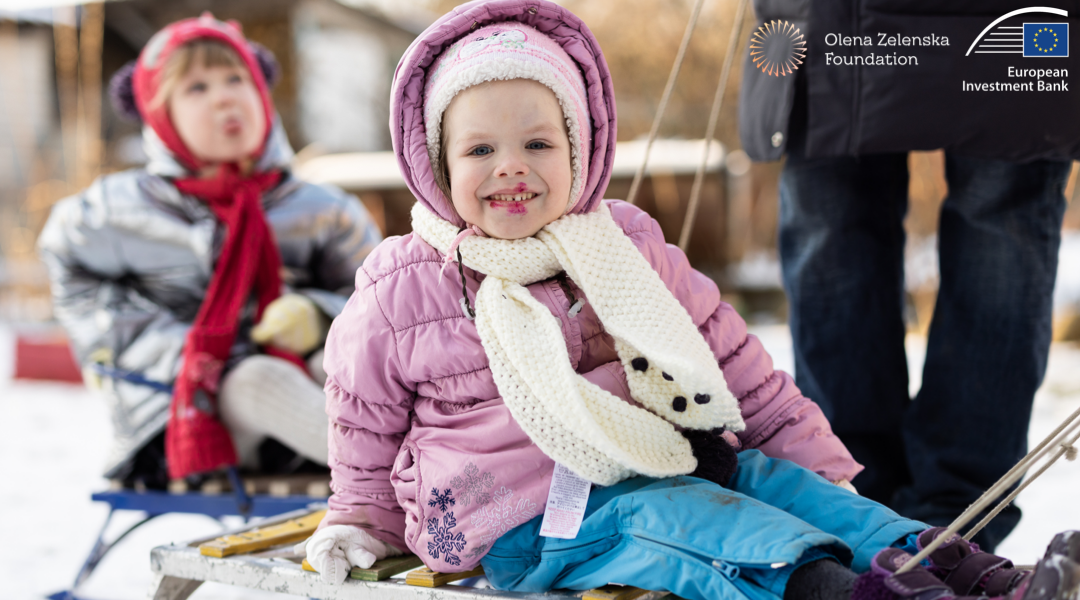 The EIB Institute, the EIB Group's philanthropic arm, has donated €800 000 to support family-style orphanages in Ukraine coordinated by the Olena Zelenska Foundation, a Ukrainian charitable organisation founded by the First Lady of Ukraine.
This donation made in late December 2022 will help more than 2000 children living in 280 family-style orphanages in the Kyiv, Dnipropetrovsk, Odesa, Sumy, Chernihiv and Zhytomyr oblasts. Many of these orphanages were evacuated from frontline areas. Due to the war and constant energy and communications outages, they need immediate help.
So far, almost three dozen family-style orphanages in the Kyiv oblast have received generators, convectors, household appliances, gas stoves, bed linen, furniture, educational equipment and more.
The EIBI donation aims to improve the living conditions of each child by purchasing heaters, generators and other household items, ranging from washing machines to IT equipment. The foundation works with each family individually to understand and resolve their needs, the most important right now being to help them survive a long and harsh winter.
The First Lady of Ukraine Olena Zelenska said: "Since the start of the war, children's lives have changed dramatically. With our partners, we have been doing the impossible to evacuate children and orphanages from the occupied territories, and are continuing to support them to this day. New needs and requests are emerging every day. I established my foundation so that we can act more effectively. The foundation's current priority is to support family-style orphanages across Ukraine by providing them with everything they need. Many of these orphanages were evacuated from frontline areas, and we want to do everything we can to improve the conditions. I am grateful to the EIB for supporting the foundation. Together, we will be able to ensure decent living conditions for the children."
EIB Vice-President Teresa Czerwińska, in charge of the Bank's operations in Ukraine, said: "(…) We are glad that we can help family-style orphanages in Ukraine through this €800 000 donation to the Olena Zelenska Foundation's humanitarian project. The cooperation means we can reach the most vulnerable children and the families most in need of assistance in the country. Today, as more and more people are left living in houses without windows, heat or light, and as Russia destroys Ukraine's energy system day after day, it is crucial to talk to the children and their guardians to make sure they have exactly what they need, be it new appliances or equipment, or new furniture or generators. Olena Zelenska and her foundation are channelling critical support to people in need in Ukraine, and we are honoured to be supporting these activities. All of this will increase Ukraine's chances of prevailing."
"The ongoing war in Ukraine is having a terrible impact on civilian populations, particularly children who have been orphaned because of the conflict," said Shiva Dustdar, Director and Dean of the EIB Institute. "At the EIB Institute, one of our missions is to provide grants for disaster relief. I am proud that this donation to the Olena Zelenska Foundation will provide some comfort to more than 2 000 children, helping them to live a more normal life despite the dramatic situation. We stand ready to continue our support. The Ukrainian people are always in our thoughts."
In 2022, to support those affected by the war in Ukraine, the EIB, through the EIB Institute, has donated more than €3.5  million.
Click here for full press release