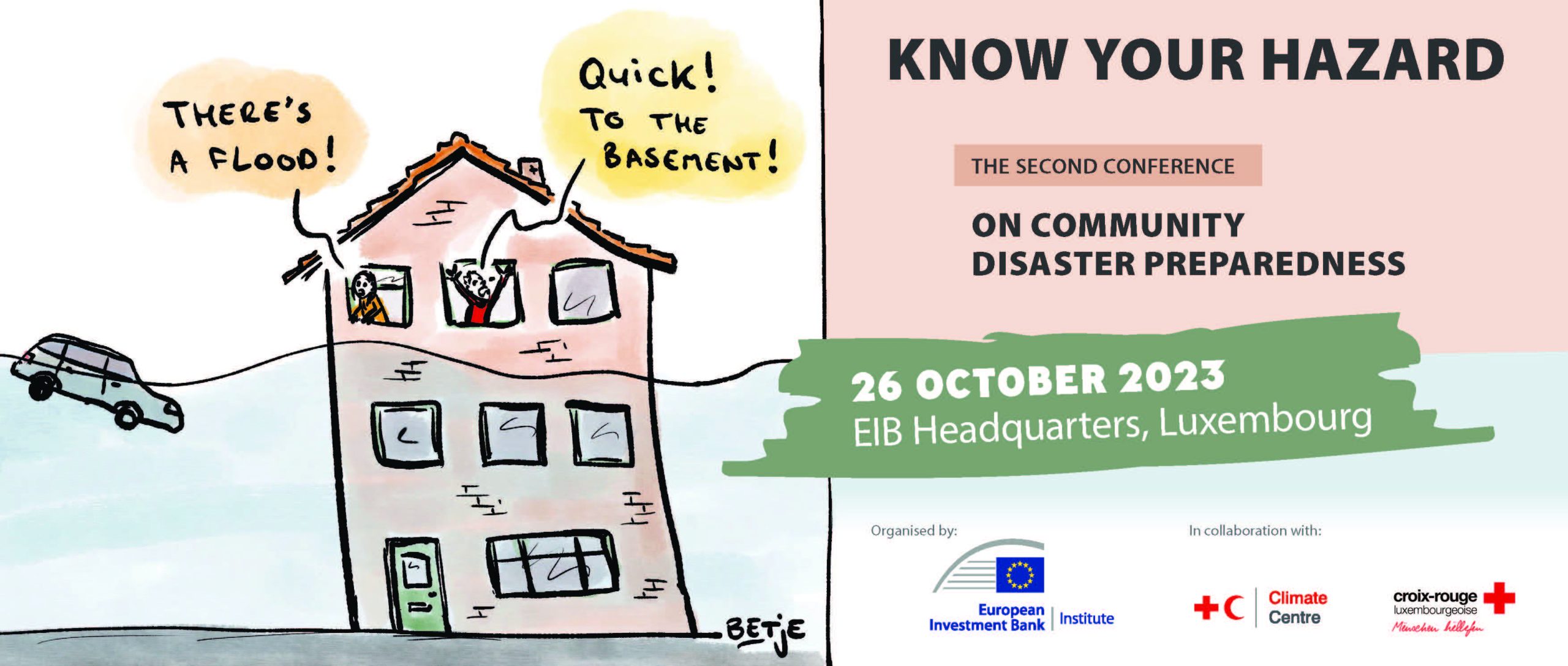 Experience-based.
Immersive.
Gamified.
Join the second European conference on community disaster preparedness
''THE ELEMENTS OF DISASTER''
Do not miss this opportunity! The conference will teach you using the scenario of a flood and the story of a fictional character, Nino, who must somehow get through it.
When: 26 October 2023, 09:00 – 18:15 (CET)
Where:

EIB headquarters, Luxembourg
ABOUT THE CONFERENCE
Climate change is causing an increase in extreme weather events, including floods, wildfires and other disasters. Being prepared for these events can save lives — and it can also save other precious things like the natural environment, animals and even property. What's more, knowing how to respond and help others when disaster strikes will boost morale in difficult times, both during an event and in its aftermath.
This disaster preparedness conference (now being held for the second time) will teach participants using the scenario of a flood and the story of a fictional character, Nino, who must somehow get through it.
It is winter, and Nino's house has been flooded — help is late in coming, and Nino has to swim to survive! But even after making it through, Nino must arrange for restorations to make their house liveable again.
What physical effects does Nino's escape have on their body? Could Nino freeze to death in the water? How much can humans endure in such a situation, and what can increase our chances of survival?
What goes on in Nino's mind? How are they impacted mentally as a disaster victim? And what measures can make people and communities more psychologically resilient?
What happens to Nino's flooded house? Could they have done anything to make it more flood-resistant?
Did Nino and their family have insurance? (And if so, would they have felt safer?) Who will pay to repair the damage? Can the insurance be relied on?
And finally: How can a bank help communities rebuild and become better prepared for natural disasters?
The event is accessible to anyone interested in the topic and free of charge. Registrations are mandatory before 24 October.For more information on the event, please contact: institute@eib.org.